Academic and Classroom Use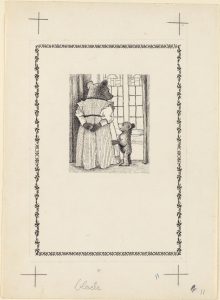 The collection is an exciting and invaluable resource for the UConn community and the public at large, and any requests to utilize the collection for academic, coursework, project, and research purposes are welcome. Please direct all questions to the Project Archivist for The Maurice Sendak Collection.
"Imagine now opening up students to the world of one of the most celebrated creators of visual literature for children's picture books…and walking across campus to take part in what amounts to a private master class with Maurice Sendak."
-Cora Lynn Deibler, Professor of Illustration
Teaching with the Collection
Since the deposit of the collection at UConn Archives & Special Collections, materials in the collection are frequently engaged with in a variety of classroom experiences. Classes are taught in the multimedia classroom located in the John P. McDonald Reading Room. The artworks of Maurice Sendak include a wide array of visual, literary, and musical inspirations. These influences provide ample subject matter for classroom teaching. Classes that have utilized the collection in the past include English, Education, Costume Design, Early College Experience, First Year Engagement, Illustration, and Theater.
Classes are generally designed to fit the needs of faculty course subjects and themes, and incorporates an overview of Maurice Sendak's biography, anecdotes, instruction on archival handling, and discussion. Please review the Archives & Special Collections Application for Use of Materials for more information visiting the John P. McDonald Reading Room.
All Spring 2021 classes will be taught online. To schedule a class session, please contact the Project Archivist. Classes can be conducted live or recorded based on availability.

Course Projects with the Collection
Developing course projects with the collection is encouraged. Maurice Sendak's diverse influences and historical references provide ample fodder for faculty interested in utilizing the collection for a course project. A past example of a successful project incorporating the collection includes UConn Illustration students illustrating a phrase from In the Night Kitchen by Maurice Sendak for two Illustration courses. The illustrated pieces underwent a panel review for "The Maurice Sendak Young Illustrators' Prize Award at the University of Connecticut" and creators of the winning pieces were awarded during the In the Night Kitchen: 50 Years Later; A Symposium and Celebration of Art of Maurice Sendak. Please contact the Project Archivist with questions.