COVID-19 Service Changes
Due to COVID-19 restrictions, many library services are temporarily modified or suspended. Please see our Library COVID-19 Reopening page for the most current information.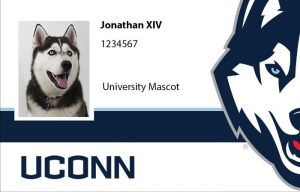 Your Husky One Card is your UConn student ID. In the Library, use it for: *checking out library materials *picking up course reserves and interlibrary loan materials *printing and making photocopies Add money to your One Card in person or online.
Your NetID identifies you as a UConn student and authorizes you to access university restricted resources, including your library account, Interlibrary Services, and HuskyCT.  Your NetID will also provide access to our restricted resources (article databases, eBooks, eJournals) when you are off campus.To find your NetID, reset, or change your password, go to: netid.uconn.edu. If your encounter problems, please contact the UITS Help Center at (860)486-4357.
---
Research Help
 Research Quickstart
Provides fast answers to common questions on the research process and using the library.
Conducting a Simple Search

Check out this short video on searching databases.
Research Now!
Provides more in-depth instruction for developing research skills – from developing a research question, to understanding how information is created and used, to finding and evaluating resources critically and responsibly.
Research Guides
Library resources & research tips tailored to your subject
Citing Sources
Citation guides, citation management, and more
Library Services
Borrowing Materials
Your Husky One Card is your library card and is required to check out materials.  Undergrads can have 150 items checked out at one time, and have a 30 day loan period renewable twice unless requested by another borrower. (Honors Undergraduates: 180 day loan period renewable 5 times unless requested by another borrower.  300 items.)
---
Technology Lending
Our libraries have a variety of equipment (including laptops, cameras, and more) that can be loaned out using your One Card.
Storrs Campus | Avery Point Campus |Hartford Campus | Stamford Campus | Waterbury Campus
---
Renewing Materials
View & renew items checked out from the UConn Library by signing in to your UConn Library Account
View & renew Interlibrary Loan (ILLiad) items by logging in to your MyILLiad account
---
Interlibrary Services
Request items – articles, books, book chapters, DVDs, etc. – from UConn's collection and other libraries and institutions when not available in UConn's collection. Use Scan on Demand to request electronic delivery of chapters and articles from print resources owned by the UConn Library.
---
Study Spaces
Each campus library has a variety of spaces for study – quiet to collaborative, individual and group.
Babbidge Library Study Spaces – an overview of study spaces in the library, including reservable group study rooms
Regional Campus Library Spaces – Avery Point  Hartford  Stamford Waterbury 
---
Printing / Copying / Scanning
Use Husky Bucks on your Husky One Card to print and copy in the library.  Black & white and color printers are available in the libraries and across campus.  Printer locations
Print from your laptop by installing HuskyPrint for Windows or Mac OS X.
Black & white and color scanning is a free service available at all campus libraries. Use our KIC machines or photocopiers to scan and email documents.
---
Services for Students with Disabilities
Services and information for persons with disabilities for Storrs campus (including parking, building access, equipment, and scanning services).
For other UConn locations, please consult the appropriate Library.
---
UConn AnyWare
UConn AnyWare provides access to software and your P: Drive.  For help with UConn AnyWare, visit ITS Help Center.
Get Help
Ask Us!


Have a question?  Need research help? Chat, email, or call 
Subject Librarians
Library contacts for specific subjects
Library FAQ
Search our frequently asked questions
Writing Center
The Writing Center can help with every stage of any writing project.
Campus locations and information
Q Center
Q Center offers drop-in tutoring focusing on lower-division Q courses in Chemistry, Math, Physics, and Statistics.
Campus locations and information
ITS Technology Support Center
ITS Help Center provides free technology support for students, including networking, software, accounts, and HuskyCT help.