Reopening UConn 
The University of Connecticut looks forward to welcoming our new and returning students, faculty, and staff as we open our campuses this spring. We are dedicated to working together with public health experts and our state to maintain a quality UConn educational experience while keeping our community healthy. Learn more about UConn's reopening plans at https://reopen.uconn.edu/

One UConn: Welcoming you back to the UConn Library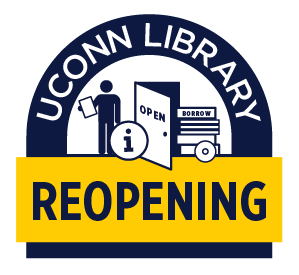 Our guiding principle is to support students and faculty while protecting the health of our community. We will continue to be flexible and in constant review of what is possible following guidance from the CDC, the State of Connecticut, and UConn, as well as availability of cleaning supplies, PPE, and staff for onsite work.  All Library locations funded and staffed by UConn Library will fall under this centralized planning, including all Regional Campus Libraries, this does not include the Lyman Maynard Stowe Health Sciences Library or the Thomas J. Meskill Law Library.
Contact 
Not sure who to contact? You can always use the Ask A Librarian chat, email us at homer@uconn.edu, or contact us through our webpage. We are here to help!
last updated 4.4.21 at 8:50am
Library Materials - Physical 
Stacks are closed but you can request materials in advance for you to pick up at our campus locations (Request UConn Items) or request scanning and electronic delivery of chapters and articles from print resources that are not available online (Scan on Demand). Loan periods have been extended to 180 days and holds to 10. Recall services are unavailable. 
Community borrowing program is temporarily suspended.
Interlibrary Loan 
Library closures worldwide due to the pandemic have affected the UConn Library's Interlibrary Services unit. There may be a significant delay in our ability to provide some resources to you. We will ensure that we do everything we can to obtain your needed resources. If you currently have materials checked out through ILLiad, please return them to your nearest UConn Library or mail them to:
UConn Library - ILL
369 Fairfield Way, U-1005F
Storrs, CT 06269
We are accepting requests for e-resources, such as PDFs of papers, articles, and chapters. E-books are often difficult to obtain but we will do our best to find one. Visit our FAQ page to learn more.
You can now place requests for UConn-owned items, such as DVDs and print books. More information about this is available on our webpage Request UConn Items.
If you have a question regarding your requests or returning materials, please contact udoc@uconn.edu.
Book Returns (Library-owned and Interlibrary Loan materials)
Books can be returned through the book drops or in person at the Homer Babbidge Library information desk. All items are being quarantined prior to handling so it will remain in your account for up to a week. All fines and fees associated with the quarantine period will be waived.
Not sure where our book drops are?
Homer Babbidge
North Entrance (across from the seal on Fairfield Way-24 hours)
South Entrance (just inside the doorway next to Bookworms)
Loading Dock (access from the street between Schenker Hall and Budds Building. No parking, just a drop off - 24 hours)
iDesk on Plaza
Avery Point - outside book drop on parking lot side of the building at top of ramp
Hartford - outside the Arch Street entrance
Stamford - the campus building is closed so please contact Jenny Gregory to make arrangements.
Waterbury - outside of the Library to the left of the entrance. You must have a UConn ID to enter the main building. Please refer to the campus reopening document for more information. If you do not have a valid UConn ID, please contact Steve Bustamante for alternative arrangements.
Not able to get to one of our campus locations? You  can return your books via the postal service to
UConn Library
369 Fairfield Way, Unit 1005C
Storrs, CT 06269
Course Reserves
We are unable to provide Course Reserves services at this time. If there are print books or DVDs you would have put on reserve, please fill out this form or contact lib.acquisitions@uconn.edu with a list of course materials and we will attempt to obtain them in an e-format. Due to the increased demand, obtaining electronic alternatives can take up to three weeks – please plan accordingly. More information on the purchase process can be found in our guide.
Not all materials have an e-format for purchase. If this occurs, we can help identify and acquire electronic alternative resources and help you create persistent links for them. Please contact your subject specialist for assistance. For all other questions regarding Course Reserves, please contact the appropriate reserve staff via email.
Archives & Special Collections
Staff have limited onsite access to the collections and are supporting research inquiries, digitization of materials, and classes and instruction. You can learn more on the A&SC COVID page and staff are available to meet with researchers via email, phone, or virtually by appointment.
ASC's digital archival collections and other resources can be accessed through the Connecticut Digital Archive. Guides to our manuscript and archival collections can be searched in our online database, ArchivesSearch, while published resources and rare books can be found by searching the Library Catalog. 
Please reach out to us at any time for collection requests and all other questions: archives@uconn.edu or 860-486-2524.
Library Materials - Electronic 
Ebooks and Electronic Resources
All our electronic resources continue to be available online. We have ramped up our streaming video and ebook offerings. We are also providing limited online access to over half of our print books (500,000 titles) via HathiTrust. See Library Electronic Resources 2021 for information on requesting and searching these collections. Please request purchase of electronic alternatives to physical materials by filling out this form or emailing lib.acquisitions@uconn.edu.
Streaming Videos
We offer thousands of streaming videos on demand which can be found in the UConn Library's Streaming Videos Collection. See Library Electronic Resources 2021 for information on requesting and searching these collections. To request the library purchase a new stream, please fill out this form or email lib.acquisitions@uconn.edu.
Connecticut Digital Archive (CTDA)
Resources in the CTDA, including Archives & Special Collections' digital archival collections, are available at https://ctdigitalarchive.org/uconn-update