Archives & Special Collections
---
Holodomor: Genocide by Famine
Richard Schimmelpfeng Gallery
Dodd Center for Human Rights
Monday through Friday, 9:00 a.m. to 4:00 p.m
through the end of Spring semester
The Holodomor took place in 1932-1933, less than twenty years after Ukraine was forcibly incorporated into the Soviet Union. Determined to force all Ukrainian farmers onto collective farms, to crush the burgeoning national revival, and to forestall any calls for Ukraine's independence, the brutal Communist regime of Soviet dictator Joseph Stalin embarked on a campaign to starve the Ukrainian people into submission. The Soviet government confiscated all the grain produced by Ukrainian farmers, withheld other foodstuffs, executed anyone trying to obtain food, and punished those who attempted to flee. As a result, in the land called the Breadbasket of Europe, millions of men, women, and children were starved to death.
Despite the magnitude of the atrocity, the Soviet regime, behind its Iron Curtain, denied the existence of the Holodomor for decades, denouncing any reports as "anti-Soviet propaganda." It was not until the breakup of the Soviet Union in 1991 and the subsequent establishment of an independent Ukraine that the contents of many sealed government archives were uncovered, exposing a wealth of gruesome information.
---
Past Exhibits
Homer Babbidge Library
---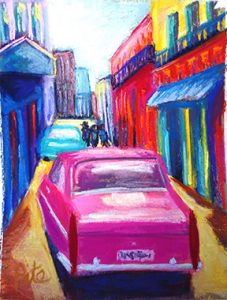 Beth Pite, Colorscapes 
Gallery on the Plaza
Homer Babbidge Library
Open through summer, 2022
Public Reception - Friday, April 22 - 4:30-6:30pm
Beth's art is about color, energy and capturing the essence of something rather than an exact likeness. Using loose strokes of vibrant color, she shows how it felt to be there, instead of just copying what the camera records. Her paintings suggest a human story in intriguing settings, whether bustling cities or soothing seascapes. By emphasizing color and energy, she creates an enhanced reality that elicits a deeper response from viewers.
Award-winning artist Beth Pite has been exhibiting professionally since 1997. Trained at UConn's School of Fine Arts, she is a member of the Connecticut Pastel Society and exhibits her pastel paintings frequently throughout the region. In 2011, her seascape won second place in a statewide competition for an exhibit at Connecticut's Legislative Office Building. Beth's work has been accepted into juried shows at West Hartford Art League, Mystic Art Museum, the Artists Cooperative Gallery of Westerly, RI, Spectrum Gallery in Centerbrook, CT, and the Slater Memorial Museum in Norwich, CT.
---
AWAKE: The Art & Design of Anthony Foronda 
Norman Stevens Gallery
Homer Babbidge Library
Open through summer, 2022
Public Reception - Friday, April 22 - 4:30-6:30pm


Anthony Foronda's work has two distinct styles he calls Primitíf and Realismé. Primitíf draws on his Filipino heritage using primitive figures and playful imagery with texture and saturated color to illustrate concepts of diversity, social and political themes, and narratives. Realismé speaks to political, cultural, and social issues using images that allow viewers to "rest" on concepts and hopefully enlighten them to a "truth" like the iconic image of a stop sign telling the viewer to stop and take notice.
His work has been seen in esteemed publications such as The New York Times, The Washington Post, and National Public Radio to name a few. He was also a regular contributor to the Miami Herald Tropic Magazine with a weekly illustration for a column called True Lies. This year, he was selected to be in the Annual Capture Illustration Book out of Australia and chosen to be in American Illustration 40, to add to his previous editions of American Illustration 26, 28, and 32.
Online Exhibits
---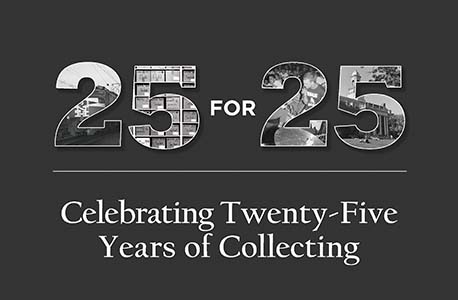 Online Exhibition, UConn Archives & Special Collections
Archives & Special Collections presents 25 for 25: Celebrating Twenty-Five Years of Collecting, a virtual, year-long exhibition celebrating collections and collecting. 2020 marks the 25th anniversary of the dedication of the Thomas J. Dodd Research Center, which brought together the collections and practices of the University's Historical Manuscripts & Archives and Special Collections departments for the first time. Over the course of a year, Archives & Special Collections staff will explore 25 objects selected from the collections, engaging with and reflecting on the meaning of these objects and the activity of collecting over time. Through these objects, Archives & Special Collections celebrates the act of historical preservation and the recognition that collections constantly evolve, grow, and expand so that future educators, students, researchers, and learners may be inspired and informed by the objects within.
---
Online Exhibition, UConn Archives & Special Collections
The Montessori method of education was first introduced to the United States in the early 1900s yet quickly fell out of favor with American educators. Widespread American interest in Montessori did not return until the 1950s, thanks in large part to teacher Nancy McCormick Rambusch. Rambusch founded the American Montessori Society in 1960, which sought to promote the Montessori method in the United States. AMS succeeded in reviving the Montessori method in the United States and gaining recognition for it as a valid educational system. This exhibit explores the origins of the Montessori movement in the United States and the Americanization of the Montessori method. It is comprised of materials from the American Montessori Society Records, which were donated to the UConn Archives in 2006 and digitized beginning in 2016.
---
Online Exhibition, UConn Archives & Special Collections
The outbreak of World War II dramatically changed Connecticut businesses. Long a vibrant part of New England industry, local firms switched from making clocks and wool coats to mass producing artillery cartridges and Army pea-coats. Selections from the Connecticut business collections held by the University of Connecticut's Archives & Special Collections paint a detailed portrait of this remarkable moment in history through the lives of the people who lived it.