Archives & Special Collections
---
Days and Nights of Print and Punk
Richard Schimmelpfeng Gallery
Dodd Center for Human Rights
Monday through Friday, 9am to 4pm
August 30 through October 16, 2022
---
The UConn Archives & Special Collections presents Days and Nights of Print and Punk, showcasing the roughly four decades of punk rock aesthetic documented through the Alternative Press Collection. From the 1970s punk rock of bad attitudes and discontent in England and the U.S., seeds were sown to propagate a unified front of thumbed noses to the status quo. Those same attitudes of youth rebellion were reinterpreted from problems into solutions by each successive generation drawing from positive mental attitude, feminism, DIY socioeconomics, animal rights, and anti-racism. Through show flyers, riot grrrl and skate zines, t-shirts, stickers, vinyl, cassettes, and posters, the evolution of the scene has demonstrated its adaptability for youth movements from the late 1970s to the present day. This exhibition also features selections of performance photographs from the traveling exhibition Live at The Anthrax from the Joe Snow Punk Rock Collection. Joe photographed the thriving Connecticut Hardcore Punk (CTHC) scene in the late 1980s during the final years of The Anthrax club in Norwalk, CT ('86-'90).  Shot on 35mm black and white Kodak film, these images represent historical documents that bring the viewer as close to the action as possible, providing an intimacy into this subcultural space from 35 years ago.  The photographs were selected and reprinted with the intent to highlight the primacy of analog at that time as well as the aesthetics of the not-so-distant past illuminated by a sweat tinted flash bulb. 
This exhibition is programmed in conjunction with the William Benton Museum of Art exhibition Wild Youth: Punk and New Wave from the 1970s and 1980s running concurrently.
D-I-Y Zine Basics September 29, 12:30-1:30pm via Zoom
Zines are DIY publications that have served as modes of expression as well as communication for underrepresented subcultures and social movements, including punk. They are analog and use a collage aesthetic to combine image and text in visually engaging ways. In this virtual workshop, learn about DIY publications with Archivist Graham Stinnett and Metadata Librarian Rhonda Kauffman to get started making your own zines. Held in conjunction with the exhibitions, Days and Nights of Print and Punk at UConn Archives' Schimmelpfeng Gallery and Wild Youth: Punk and New Wave from the 1970s and 1980s at the William Benton Museum of Art.
Suggested materials list: • 1 sheet of letter sized paper • Magazines, newspapers, stickers to collage with, preferably images with high contrast. • Glue stick or tape • Sharpie fine and ultra fine permanent markers • 1-inch and ¾ inch alphabet stickers in various colors • Patterned Washi tape
Level Up materials list: • Label maker • Plastic bone folder • Alphabet stamps w/ink pad • Long arm stapler • Typewriter • Photocopier 
---
Past Exhibits
Homer Babbidge Library
---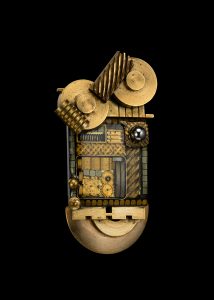 Elements of Time: Lost and Found
The Jewelry of Ann Pedro
Gallery on the Plaza
Homer Babbidge Library
August 26-December 11th, 2022
Opening Reception – Sunday, September 18, 2-5pm
---
This exhibition features jewelry designs that have been created over the last ten years and specifically highlights work that has been created over the last two years.  My color palette is what I call "industrial colors," such as brass, copper, aluminum, steel and bronze.  My goal has always been to repurpose vintage materials that may have never been intended  to use as a piece of wearable art, but have now been transformed into jewelry.  Each piece tells a story, and is meant to spark conversation.  I am influenced by many art movements such as Art Deco, Art Nouveau, Steampunk, and the art and architecture of Frank Lloyd Wright.
Online Exhibits
---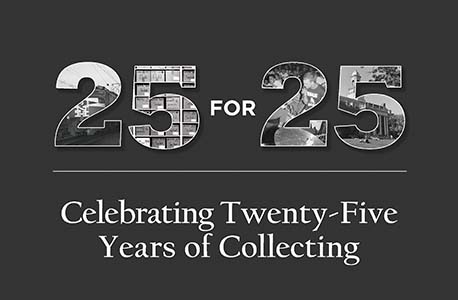 Online Exhibition, UConn Archives & Special Collections
Archives & Special Collections presents 25 for 25: Celebrating Twenty-Five Years of Collecting, a virtual, year-long exhibition celebrating collections and collecting. 2020 marks the 25th anniversary of the dedication of the Dodd Center for Human Rights, which brought together the collections and practices of the University's Historical Manuscripts & Archives and Special Collections departments for the first time. Over the course of a year, Archives & Special Collections staff will explore 25 objects selected from the collections, engaging with and reflecting on the meaning of these objects and the activity of collecting over time. Through these objects, Archives & Special Collections celebrates the act of historical preservation and the recognition that collections constantly evolve, grow, and expand so that future educators, students, researchers, and learners may be inspired and informed by the objects within.
---
Online Exhibition, UConn Archives & Special Collections
The Montessori method of education was first introduced to the United States in the early 1900s yet quickly fell out of favor with American educators. Widespread American interest in Montessori did not return until the 1950s, thanks in large part to teacher Nancy McCormick Rambusch. Rambusch founded the American Montessori Society in 1960, which sought to promote the Montessori method in the United States. AMS succeeded in reviving the Montessori method in the United States and gaining recognition for it as a valid educational system. This exhibit explores the origins of the Montessori movement in the United States and the Americanization of the Montessori method. It is comprised of materials from the American Montessori Society Records, which were donated to the UConn Archives in 2006 and digitized beginning in 2016.
---
Online Exhibition, UConn Archives & Special Collections
The outbreak of World War II dramatically changed Connecticut businesses. Long a vibrant part of New England industry, local firms switched from making clocks and wool coats to mass producing artillery cartridges and Army pea-coats. Selections from the Connecticut business collections held by the University of Connecticut's Archives & Special Collections paint a detailed portrait of this remarkable moment in history through the lives of the people who lived it.