Our Earth Revealed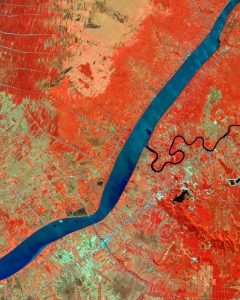 Homer Babbidge Library, Gallery on the Plaza
September 17, 2018 – October 30, 2018
The winsome of earth is clear, and the artistry ranges from the surreal to the sublime. Satellite images document a dynamic story, a story of the peak of this new geologic epoch – Anthropocene – 'The Age of Man'. This art gallery – a unique fusion of art and science – will feature visually stunning and scientifically valuable images of various areas from around the world captured by earth-observing civilian satellites. The exhibits will present appealing patterns, shapes, colors, and textures of the natural and human-made landscape as well as sentient views of forced migration triggered by racial aggression and ethnic tension. Enjoy the beauty of our planet and understand how we are changing its face in order to meet our increasing appetite for resources.
The work is part of a research project to map thousands of square meters of the Pan-Arctic, using satellite images to collect data. You can learn more about the work on UConn Today.
A Legacy of a Lifetime of Collecting: The Carl & Marian Rettenmeyer Story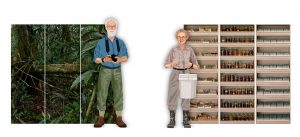 Homer Babbidge Library, Norman Stevens Gallery
Opening October 28, 2018 through Spring 2019

Carl and Marian Rettenmeyer spent more than 50 years studying army ants and their guests. This new interactive exhibit takes you to the jungle to tell the story of their lives and extraordinary research, and into the Biodiversity Research Collections at UConn to explore collecting, curation, and the vital role of biological specimens in scientific discovery.
This new AntU traveling exhibit was developed by the Departments of Ecology & Evolutionary Biology, Digital Media & Design, and Connecticut State Museum of Natural History at UConn
Facility Hours: