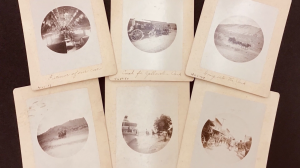 Collection includes fine print and limited editions from private presses, unique fine and signed bindings, artists' books and association copies. Since the late 1970s, Special Collections has been acquiring experimental and artists' books to provide students of fine and graphic arts with examples of forms that challenge the conventional meaning of the word 'book.' Over the years, the collection has grown to include fine and small press imprints, limited edition letterpress and offset printed volumes, and contemporary artists' books. These books represent a variety of structures, construction techniques, printing methods and themes. National and international artists are represented with works in a variety of languages. The collection also includes references sources and exhibition catalogs.
Accessing These Materials
Fine press and artists' books are cataloged and searchable in the UConn Library catalog. Search the Library catalog by author, title, press, keyword, or the subject headings "artists' books" or "fine books." All materials are available for use in the John P. McDonald Reading Room. For additional information, please see Using our Materials.