On Permanent Exhibit
Endangered Species
Homer Babbidge Library, Bookworms Cafe
The University of Connecticut Libraries is honored to host the sculpture "Endangered Species" by internationally known sculptor, printmaker, and painter Werner Pfeiffer.
Pfeiffer's sculpture uses books that have been sealed shut, then mutilated, and placed on shelving lined with pages from the dictionary, making a compelling statement about the power of the written word and censorship. The work, which measures seven by twenty-four feet, was created in the 1980s and exhibited throughout the United States and Europe. It is a gift of the artist.
A native of Stuttgart, Germany, Pfeiffer attended the Akademie der Bildenden Kunste (State Academy of Fine Arts and Design) in Stuttgart, where he trained as a fine artist specializing in book arts. He immigrated to New York in 1961, where he worked for a decade in the commercial realm as a freelance designer and art director, amassing numerous citations and awards for his work. He was appointed professor and director of the Adlib Press at the prestigious Pratt Institute in 1961, a position he held until 2003.
Pfeiffer's books, collages, drawings, paintings, prints and sculptures have been shown internationally in more than one hundred group exhibitions and in more than sixty solo shows in countries such as Chile, Colombia, France, Germany, Israel, Sweden, Switzerland, and in the U.S. In addition to being in many private and corporate collections, he is represented in the United States in institutions such as the Brooklyn Museum, the Guggenheim Museum, the Metropolitan Museum of Art, the Museum of Modern Art, the Whitney Museum of American, and elsewhere in the world at places such as the Buchmuseum in Dresden, Klingspor Museum in Offenbach, the National Museum and Ostergotlands Museum in Sweden, and the Staatsgalerie in Stuttgart, where his work was also exhibited in a show, along with that of his wife, Lise Poirier, who is a collagist. In addition to UConn's library, his work may also be seen at UConn's Law School, at the criminal court building in Waterbury, and the Hartford Courant's office among many other places.
Pfeiffer's work was installed in the very popular and frequently crowded Bookworms Café, a prime campus location for socializing, studying, and eating, which was expanded 625 square feet in the summer of 2008. The expansion was made possible, in part, by a generous gift from the Class of 2006. A celebration of the installation was on Thursday, October 23, 2008.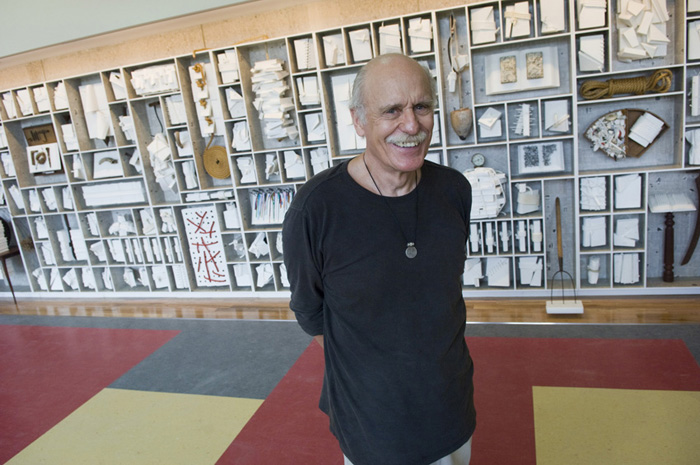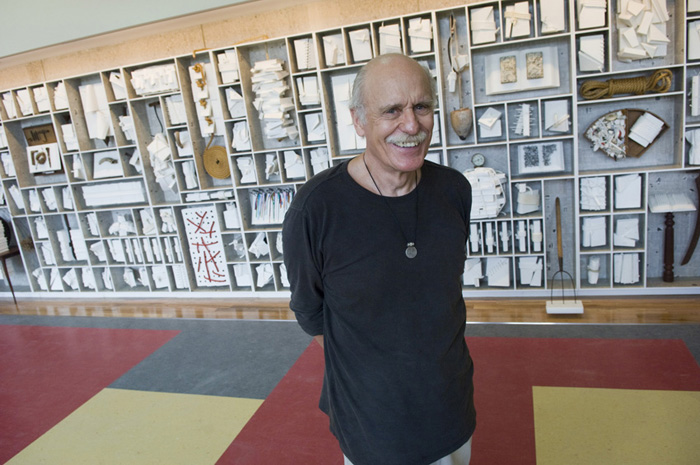 Werner Pfeiffer and his sculpture "Endangered Species," installed in Bookwooms Cafe at the Homer Babbidge Library, University of Connecticut