Scan on Demand allows you to request scanning and electronic delivery of chapters and articles from print resources that are not available online. 
Who can use this service?
UConn faculty, staff, and currently enrolled students.
How do I make a request?
You can place a request in one of two ways:
Search the Library catalog and choose the 'Expand My Results' check box. Search your article or chapter title. Choose 'Request a PDF' from the record. If your article or chapter is not indexed and can't be located in our catalog, you can place your request directly through ILLiad (see number 2).

2. You can request directly through your ILLiad account. Simply log in to your ILLiad account, choose "Place Request" from the menu, and select the form you need.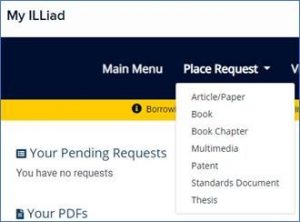 What kinds of materials can I ask for?
We will scan chapters and articles from books and journals that are available at the UConn Library. We cannot scan entire books or journal issues.
How quickly will I get my materials?
Typical requests during the academic year take 48-hours. Outside academic hours may be longer. 
How will you notify me when my materials are available?
You will receive an email when your item becomes available. Missing items will automatically be referred to ILLiad for you. 
How long will the materials remain available to me?
30 days from the time it was posted. 
What do I do if I accidentally delete a document?
Please contact us to have a document resent.
How do I request an article or book chapter from outside of UConn?
Please see our FAQ "How do I request an article or chapter?"