Use this service to request circulating items from UConn Library. Items will be available for pick up at the circulation desk of your choice, with the exception of the Music & Dramatic Arts Library, which is temporarily closed. UConn faculty, staff, and currently enrolled students are eligible. Some unprocessed items may take longer than 5 days. 
This service is available at the following locations: Avery Point, Hartford, Pharmacy, Music & Dramatic Arts, Stamford, Storrs (Homer Babbidge Library), and Waterbury. 
How do I make a request?
Sign into your UConn Library account, opens in a new window.
Perform your search, opens in a new window. Locate a needed title.
Choose 'Request from UConn', select your pick up location, and select 'Request'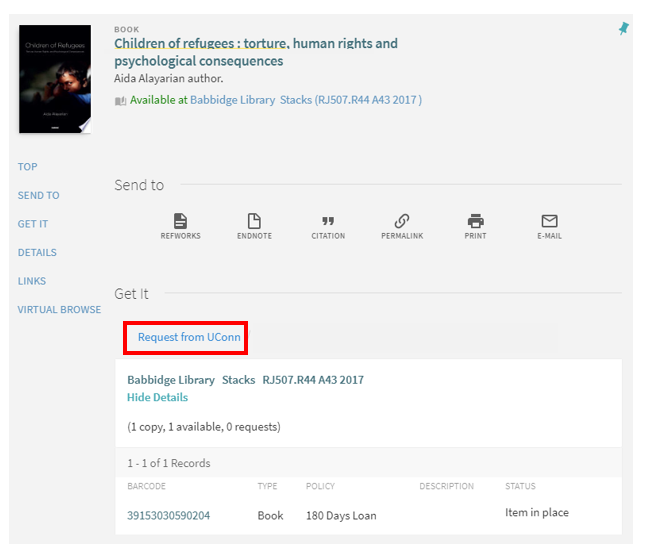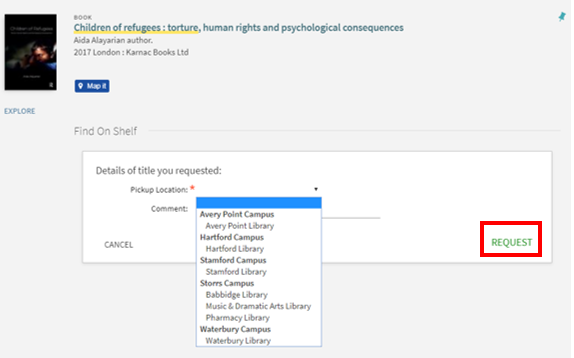 What kinds of materials can I request?
Most materials can be requested.  Items not available include reference materials, special collections (archives), items on reserve, entire volumes of journals, library gadgets (laptops, cameras, etc,) and other non-circulating materials. 
Where can I pick up the materials I'm requesting?
You can choose your pickup location from any of these locations: Avery Point, Hartford, Pharmacy, Stamford, Storrs (Homer Babbidge Library), and Waterbury.
How quickly will I get my materials?
Due to additional handling protocols, including minimizing staff contact per request and sanitizing bags prior to pick up, request can take up to 5 days or longer. No rush requests will be accepted. If the item cannot be found you will receive a cancellation notice and can place a new request using Interlibrary Loan (ILLiad).
How will you notify me when my materials are available?
You will receive an email when your item becomes available.
How long will you hold the materials for me?
10 days.
Can I request a renewal?
Yes, with some exceptions including leisure reading materials, DVDs, and VHS. Instructions can be found on our Renewals page. 
What if I want an article or chapter of a book or something not owned by UConn?
Please refer to Interlibrary Services.
Questions? Please contact us at: