Connecticut Digital Archive
Search our digital archival collections and materials from other educational and cultural institutions around the state.
Off-Campus Access Help
When you are off campus and attempting to access electronic resources (journal articles, ebooks, databases, etc.) from the UConn Library, the webpage may ask for your UConn NetID. You will se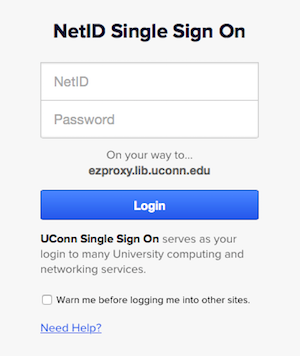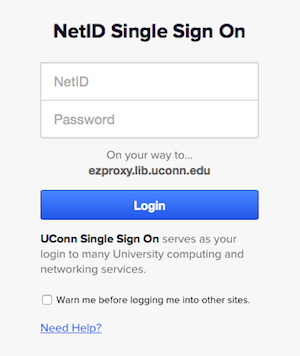 e a box identical to the one on this page. Type your NetID and password into the fields provided, then click Login.
---
NetID Check
Check for typos in your NetID and password. Is your CAPS Lock key turned off?
Note that when using your NetID, you may encounter two-factor authentication (2FA), Duo Universal.  Users may be required to complete the 2FA process as part of logging in from off-campus.
Still unable to access the library e-resource? Please proceed to the steps below.
If you are a staff member attempting to help a user, please use these questions as guidance.
---
Entry Points
If the e-resource does not load after several minutes and multiple login attempts, try using a different entry point.
Are you using the Library's website? Usually your best bet. The website offers a General Search, databases listed by subject, and a Journal Search. To test if the issue is specific to one platform, try accessing a different resource on the same platform, as well as a similar resource on a different platform.
Still no luck? Please proceed to the following steps.
---
Troubleshooting
Reboot your computer and attempt a fresh login. Often this will clear the computer of whatever bug or improperly loaded setting was blocking access.
Try different browsers. Sometimes one browser will work when another does not. Make sure you are running a current version of the browser.
Clear your browser's cookies/cache/history/passwords. This UConn Knowledge Base age shows how to clear the five most widely used browsers.*
Check if cookies are enabled in your browser. If not, enable them. This WikiHow Tutorial explains how to enable cookies in each browser.
Lower your device's or network's security settings. Consider temporarily turning off your computer firewall. This LifeHacker Tutorial explains how.
Try using a different computer or device. Note that if you are using a workplace, public library, or other institutional computer or Internet network, that institution's firewalls might block access to UConn's e-resources. In that case, try using a personal network or, if all else fails, visiting a UConn campus.
Refer to the Remote Access section within UConn's Knowledge Base. UConn's Knowledge Base consists of information regarding the UConn Desktop Gateway, UConn Lab Remote Access, VPN, Direct Access, and more.
* Please note that the UConn Library is not responsible for content in external sites.
---
Still no success? Contact us!
Please contact us at ermsupport@uconn.edu. Please tell us exactly what resource you are attempting to access, and include a screenshot of the error message if possible. Try to indicate in your message:
What is the resource?

What is the citation (title, author, URL, etc.) to the online resource?

What is the error message you see?

Detailed description? Screenshot?

How are you trying to access the resource?

Library website? HuskyCT? Google Scholar?

Are you on or off campus? If off-campus, how are you attempting to connect?
What browser are you using? Browser version?

IE? Firefox? Chrome? Safari?

How can we contact you?
Thank you for using UConn Library!