Connecticut Digital Archive
Search our digital archival collections and materials from other educational and cultural institutions around the state.
COVID-19 Service Changes
The Waterbury Campus Library is available for use by UConn students, faculty, and staff only at this time. Our hours have changed to
Building Hours
Monday-Thursday – 9am-3pm
Friday-Sunday – Closed
Service Desk Hours
Monday-Thursday – 10-2pm
To help keep our facilities as sanitary and safe as possible, no food or drink (other than bottled beverages) is allowed in the Library. You are encouraged to clean your work area before and after use. Face coverings are required at all times. Go to our COVID-19 page to learn more.
Welcome to the Waterbury Campus Library
99 East Main Street
Waterbury, CT 06702
Main Number: (203) 236-9900
Library Director: (203) 236-9908
Can't find what you are looking for? You can start by using our Ask a Librarian tool or by reviewing our eResources guide.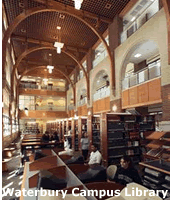 The Waterbury Campus Library is located within the UConn Waterbury Campus, on the north side of East Main Street and across from the historic Palace Theater. The regional library is dedicated to serving the research needs of the students and faculty of the University of Connecticut. Our computer workstations are networked to the main campus and provide access to more than 200 databases, a growing collection of e-books, thousands of full-text reference sources, journal articles, and streaming videos. We house the Writing Center, offer classroom, research, and video editing support. The library includes several group study rooms, in addition to individual study carrels, and comfortable seating throughout the building.
UConn faculty, staff, and currently enrolled students may place requests for library materials held at the Waterbury Campus Library using Inter library Services. These services are available without charge to UConn faculty, staff, and currently enrolled students. Library support is available from our staff through consultations, instructional sessions, and online chat.
To learn more about our new acquisitions, go to: New Titles Guide