COVID-19 Service Changes
The John P. McDonald Reading Room is closed for the semester. Staff have limited onsite access to the collections and are supporting research inquiries, digitization of materials, and classes and instruction. You can learn more on our
COVID page
and staff are available to meet with researchers via
email, phone, or virtually by appointment
. ASC's digital archival collections and other resources can be accessed through the 
Connecticut Digital Archive.
 Guides to our manuscript and archival collections can be searched in our online database, 
ArchivesSearch
, while published resources and rare books can be found by searching the 
Library Catalog
. Please reach out to us at any time for collection requests and all other questions: 
archives@uconn.edu
 or 860-486-2524.
INFORMATION
The Archives & Special Collections supports the University of Connecticut's mission of teaching, research and service. It acquires, preserves and makes accessible specialized research collections for students, faculty, staff, scholars and the general public and supports the development and promotion of public program, exhibitions and similar events to enhance the University's teaching and research activities.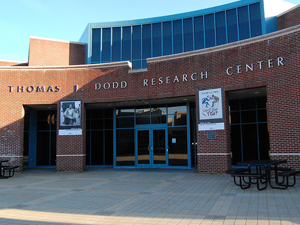 Archives & Special Collections
Thomas J. Dodd Research Center
405 Babbidge Road, Unit 1205
Storrs, CT 06269
(860) 486-2524
archives@uconn.edu