University of Connecticut Waterbury Campus Library
99 East Main Street
Waterbury, Ct. 06702
Contact Information
Main Number 203-236-9900
Library Director 203-236-9908
Waterbury Campus Library Blog
Welcome to the Waterbury Campus Library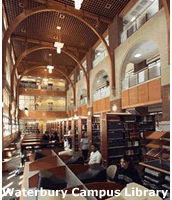 The University of Connecticut Libraries strives to provide excellent service to our user community in everything we do. As our mission statement sets forth: The University of Connecticut Libraries provides our users with access to intellectual content that fulfills their academic and research needs. We anticipate and respond to their desire for high quality collections and information and integrate our services into the University's teaching, learning, research, and public engagement activities.
In October 2003, the current award-winnng Waterbury Campus Library opened its doors to members of the UConn and Waterbury community. The regional library's history dates back to the founding of the campus as an Extension Center in 1941, with classes scattered around the City of Waterbury and the arrival of Margaret K. Barnes, the first librarian, who served until 1974. From 1946 to 1955, the library operated in the former Begnal School. When the campus then relocated to 32 Hillside Avenue, Waterbury, the library first occupied one large room in the Classroom Building then moved once again in May 1971 to Kirschbaum Hall, named for Dr. Edward H. Kirschbaum.The library houses the Math Resource Center, Writing Center, several group study rooms, in addition to individual study carrels and comfortable seating throughout. Through our affiliation with the Osher Lifelong Institute (OLLI) program at the UConn Waterbury Campus, we provide library privileges and research support to OLLI members and presenters.
The Waterbury Campus Library is dedicated to serving the research needs of the students and faculty of the University of Connecticut. We serve as the focal point for the Waterbury Campus. Our computer workstations are networked to the main campus and provide access to nearly 250 databases, growing collection of e-books and thousands of full-text reference sources and journal articles.
The University of Connecticut Document Delivery / Interlibrary Loan (DD/ILL) service helps you obtain scans or loans of materials. These services are available without charge to UConn faculty, staff, and currently enrolled students to support academic research, instruction, and professional growth.
Research support is available from the library staff and through online chat. UConn faculty and instructors may request customized library instruction sessions for their classes. Contact shelley.goldstein@uconn.edu or submit an online form for instructional requests.
For interlibrary loans, reserves, and video editing contact steve.bustamante@uconn.edu.