Commemorating "The Great War"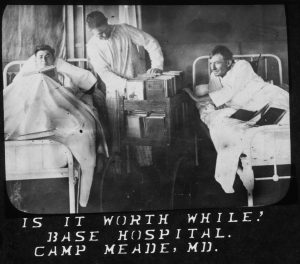 In late June 1914, Archduke Franz Ferdinand of Austria was assassinated by a Serbian nationalist in Sarajevo, Bosnia. An escalation of threats and mobilization orders followed the incident, leading by mid-August to the outbreak of World War I, which pitted Germany, Austria-Hungary and the Ottoman Empire (the so-called Central Powers) against Great Britain, France, Russia, Italy and Japan (the Allied Powers). The Allies were joined after 1917 by the United States. The four years of the Great War–as it was then known–saw unprecedented levels of carnage and destruction, thanks to grueling trench warfare and the introduction of modern weaponry such as machine guns, tanks and chemical weapons. By the time World War I ended in the defeat of the Central Powers in November 1918, more than 9 million soldiers had been killed and 21 million more wounded.
In commemoration of the centennial of the involvement of the United States in this historic and world changing event, Archives & Special Collections has installed five World War I themed exhibitions located in the Homer Babbidge Library and the Thomas J. Dodd Research Center. Two of the exhibits highlight the research of UConn graduate students Allison Horrocks (History, Ph. D., 2016) and Mary Mahoney (History, Ph. D candidate). 
Posters of World War I from the collections of the Library of Congress illustrate the need for men, resources and financing necessary to support the efforts of the United States in its support of its allies. Dodd Center, West Corridor
The Land-grant College at War: A Centennial Retrospective traces the turn-of-the-century activities and role of Connecticut Agricultural College through its involvement in food production, research, military training, and the active participation of its staff and students. Curated by Allison Horrocks.
Dodd Center, Exhibition Gallery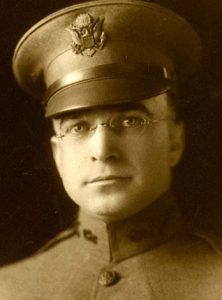 From Library War Service to Science: Bibliotherapy in World War I outlines the implementation of a theory that books can heal. Put in practice in Connecticut during World War I, doctors and librarians joined together to apply reading as a form of therapy. Curated by Mary Mahoney.
Homer Babbidge Library, West Alcove
Dana T. Leavenworth – A Connecticut Soldier's Experience from the Leavenworth Family Papers found in Archives & Special Collections, the documents highlight the concerns of an officer serving in France as well as the activities and emotions of those serving on the home front.
Dodd Center, John P. McDonald Reading Room
Commemorating the Centennial utilizes archival materials selected from the holdings of Archives & Special Collections.  The individual cases each represent a format or range of activity unified to illustrate the variety of perspectives, activities, emotions and consequences of the United States actively participating in the war effort.
Homer Babbidge Library, Gallery on the Plaza
The exhibit is open from  April 6 through May 15, 2017.