"UColor:  Jonathan on Parade"
Members of the campus community expressed their inner Husky in this exhibit of painted fiber glass Husky dog statues sponsored by the student group, the Bean Team.  The Bean Team solicited ideas from the community, then selected 24 winning entrants, who were given statues and paint to create their personal visions of UConn's mascot, Jonathan. The Bean Team works with the William Benton Museum of Art to bring art to the UConn campus.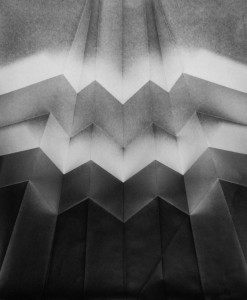 "Shadow Castings: A Study of Geometry in Paper and Light"
Photographer Christine Dalenta and paper sculptor Benjamin Parker collaborate and practice a unique combination of paper folding and photographic techniques. Their process results in camera-less images, created through the action of light on folded light-sensitive paper.
Since the very beginning of photography, artists have placed three-dimensional objects onto light-sensitive paper to form a representation in two dimensions. This technique and its resulting images, known as photograms, are currently enjoying a resurgence in contemporary photography. Dalenta and Parker's images are similar to photograms, but employ an original method, where not only is there no camera, there is no object. The paper itself both modulates and records the light simultaneously.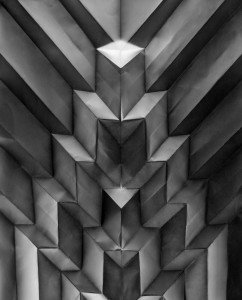 Christine Dalenta worked with photographic techniques for more than two decades. She was educated at Brown University and the Hartford Art School (MFA 1994). Her work has been exhibited nationally and is held in many corporate and private collections. It has also been published in national and international publications including the Washington Post, Time magazine, and Elle Decor. She has worked as an artist, an educator, an archaeological photographer, a commercial photographer, and a museum curator.
Benjamin Parker is a paper sculptor from Connecticut who specializes in folding tessellations, or patterns. He studied French and Italian Language and Literature at Central Connecticut State University.  Since 2007, he has created hundreds of tessellations as well as a system for designing more. He has taught these techniques at conventions and art leagues throughout the United States. His first book, Six Simple Twists: The Pleat Pattern Approach to Origami Tessellation Design, has just been published by CRC Press.
For more information please see their Facebook Page.
The exhibits run through February 19, 2016 in Homer Babbidge Library.
In the Archives…
Flight by Force or Free Will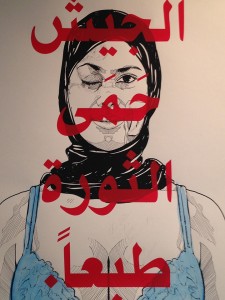 Migration has occurred throughout human history.  The fluctuations of population from one geographic location to the next has occurred in times of tragedy, opportunity and emergency; by flight, by force and free will.  This exhibition highlights selections from the Archives & Special Collections about expressions of displacement, forced migration, coercive settlement, asylum under the state and the globalization of refuge seeking.
The JustSeeds Artists' Cooperative illustrates the importance of migration as a social right and its necessity:
"Migration is a phenomenon, not a problem, something that simply is. The right to migrate and to move freely is our human right. When societies restrict or choke off the movements of their citizens, they end up doing the work of a dam — they generate power and control floods, but in doing so they destroy life and wreck the surrounding space.
We want to re-imagine migration as an inevitability, as a social practice that is not to be prevented but to be related to, like weather. All migration starts with social relationships. When people move, they are going either towards their families or communities, or more often, away from them. They move to help their relatives, or support them by leaving. People migrate because their homes stifle them, because those homes become burdens they need to shed in order to have full lives. They move in search of opportunity, or to escape their past, or to simply survive. They move because of lies they are told and that they come to believe, and they move to fulfil the most beautiful and fragile of dreams. Migration is fundamentally about our right to move freely across planet Earth, in search of our fullest and best selves." — Migration Now organizers, Favianna Rodriguez & Roger Peet
Migration and displacement as a trans-historical practice, has been documented in a wide range of outlets such as children's books, biography, non-governmental organization circulars, fine art, propaganda, illustration and photography.
These selections are curated from the following collections:
Northeast Children's Literature Collection
Human Rights Internet Collection
Mia Farrow Collection
University of Connecticut Films Collection
International Rescue Committee, Central America Records
Eric Reeves Papers
Artist's Book Collection
Alternative Press Collection
This exhibit is on display in the Thomas J. Dodd Research Center Gallery through February 29, 2016.