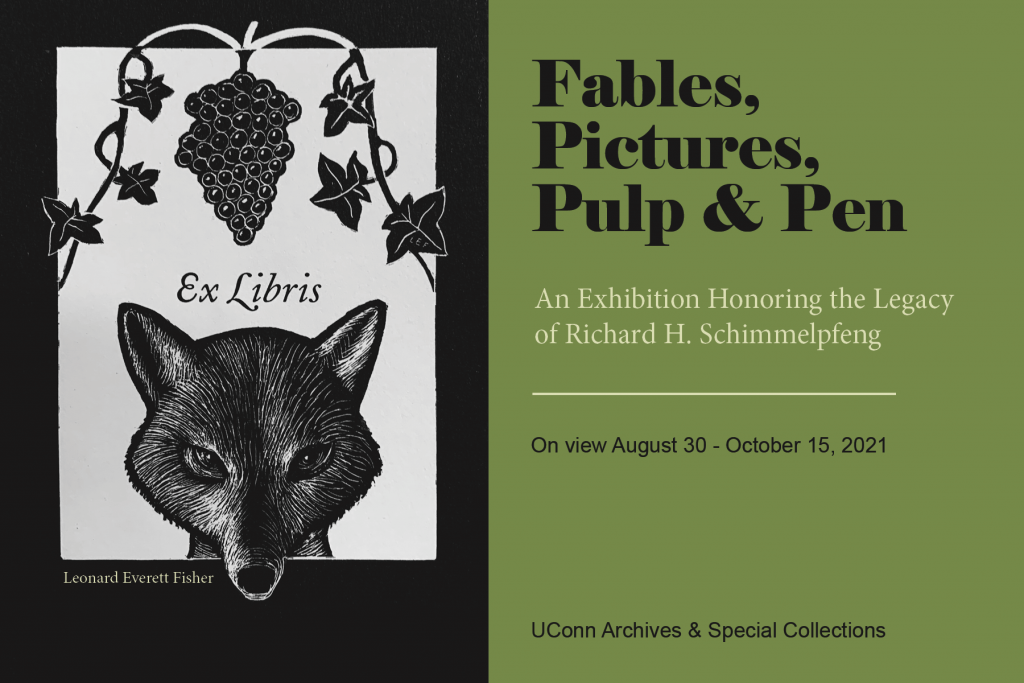 Richard H. Schimmelpfeng Gallery, UConn Archives & Special Collections
August 30 through October 15, 2021 
Fables, Pictures, Pulp and Pen honors the legacy of Richard H. Schimmelpfeng, featuring objects from the significant and varied collections donated to Archives & Special Collection over a 50-year period including fine press books, photobooks, handmade paper specimens, calligraphy and type samples and illustrated bookplates. 
A graduate of the University of Illinois and Columbia University's Graduate School of Library Science, Richard H. Schimmelpfeng began his library career as a cataloger and head of the technical services department at Washington University in Saint Louis. In 1965, he was recruited by John P. McDonald, Director of the University of Connecticut Libraries, to develop a new special collections program. After 27 years of service to Archives & Special Collections, Mr. Schimmelpfeng retired in 1992. The day after retiring he began working as a volunteer, serving as the principal cataloger for the department until early 2017.   
Richard Schimmelpfeng's 50 years of faithful service to the fundamental mission of the special collections program, to preserve our cultural heritage for future use, has left an indelible mark on the scope of the collection. He shaped the collection not only in his professional capacity, but also through charitable donations. An avid collector of rare books and manuscripts, Mr. Schimmelpfeng generously donated significant and varied collections to the University of Connecticut. These include the Paper and Papermaking Collection, the Photography Books Collection, the Fables Collection and the Calligraphy, Lettering & Penmanship Collection. A friend and supporter of the Northeast Children's Literature Collection, Mr. Schimmelpfeng donated hundreds of limited edition and historically significant books, prints and bookplates to fill gaps in the collection.
Fables, Pictures, Pulp and Pen honors the legacy of Richard H. Schimmelpfeng. Aesop's fable The Fox and the Grapes conveys a lesson about patience and foresight. Having the patience to wait for unripe fruit to ripen, and the foresight to collect and to preserve for the future, the fable illustrates the wisdom of hope, and that having hope can be its own reward. Upon his death in 2017, Mr. Schimmelpfeng left a generous bequest to Archives & Special Collections which will have a significant impact on Archives & Special Collections' future success, providing ongoing support for its growth and the expansion of its public programming for the benefit of students, faculty, and the public.