Connecticut Digital Archive
Search our digital archival collections and materials from other educational and cultural institutions around the state.
Avery Point Campus Library
Welcome to the Avery Point Campus Library
1084 Shennecossett Rd.
Groton, CT 06340
Phone: (860) 405-9146
Can't find what you are looking for? You can start by using our Ask a Librarian tool.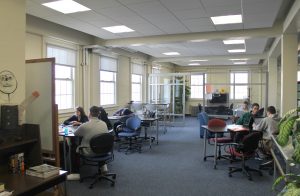 The Avery Point Campus Library is dedicated to serving the research needs of the students and faculty of the University of Connecticut. It houses the marine and coastal science collection, and our general collection supports all classes taught and the four undergraduate degrees on campus: English, General Studies, Marine Sciences, and Maritime Studies.
The resources provided by the UConn Library are impressive. The library catalog and UConn WorldCat are integrated across all the UConn campus libraries, and Interlibrary Services provide easy access to the resources of the university libraries without charge to UConn faculty, staff and currently enrolled students to support academic research.
The Avery Point library includes large open study spaces on the first floor, a dedicated quiet study area on the second floor, several group study rooms, individual study carrels, and comfortable seating throughout the building. Library assistance and support is available from librarians through consultations, instructional sessions, subject specialists, workshops;, research guides and online chat.
Historical information:
The Avery Point Campus was formerly the summer estate of Morton Plant, a railroad, steamship and hotel magnate. Branford House, the mansion overlooking Long Island Sound, was reportedly worth $3 million when it was completed in 1904. Also located on the estate was a caretaker's house (the current police station) and a barn and horse stable (the current physical plant buildings).
The Plant estate was turned over to the State of Connecticut in the 1930's. During World War II, it was leased to the Coast Guard as a training center. During that period, the Coast Guard built the present cinder block buildings. In 1967, the estate was converted to the Southeastern Campus of the University of Connecticut, later renamed the University of Connecticut at Avery Point.