Public computers: Usage policies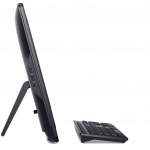 Who may use a computer?
All of our valued patrons are welcome to use a public computer while visiting the library, no reservation needed.
How long can I use a computer?
There is no set time limit but library staff may ask you to offer the computer to another patron, if needed. The computer will not turn off until the library is closed.
Can I listen to something?
Yes! We're happy to loan you a pair of headphones at the Information Desk or you may use your own wired earbuds. 

 Have more questions or need help? Contact the Information Desk at libinfodesk@uchc.edu or Jason Nicosia at nicosia@uchc.edu.
---
Hardware and software
Windows 10
Chrome, Firefox, Edge
Microsoft Office 2016 (Word, Excel, PowerPoint, Visio, Publisher, etc.)
For UConn Health students
Look for the Student folder on the desktop for quick access to:
AITS
Blackboard
RefWorks support
For UConn Health faculty and staff
Look for the Staff Training folder on the desktop for quick access to:
Saba Online Learning Center: annual training required by UConn Health, such as compliance training.
Trying to access Epic?  Sorry! The library's public computers can't access electronic medical records. 
---
Printing and saving
Printing
Learn more about printing at the library. Patrons with a UConn Health network username and password are able to print.
Saving
You can save documents on the computer, but they are deleted when the computer is restarted. We recommend saving files to a USB flash drive or emailing them to yourself. 
---
Related Policies