Bibliotherapy exhibit 
Bibliotherapy:
"A form of supportive psychotherapy in which the patient is given carefully selected material to read." [MeSH heading]
UConn PhD candidate Mary Mahoney has created an online exhibit to explain bibliotherapy as it was used during WWI.
UConn Health is fortunate to have 5 display panels that were created in conjunction with the online exhibit.  These panels mirror the 5 sections of the online exhibit: Library War Service, Hospital Libraries, "Prescribing" Books, Contagion, and Science.  
---
'Coney Island Babies' exhibit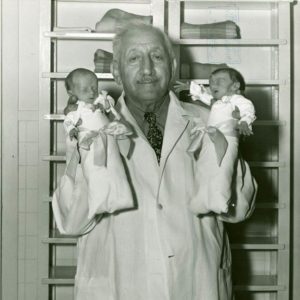 The care and feeding of infants in the early 20th century was far different from today.  Did you know that incubators for premature infants were not always accepted by hospitals?  That babies could be scored for perfection in Better Baby Contests?  That bottled milk was initially so dirty that public health activists in New York City set up milk stations to assure quality?
This exhibit (no longer on display) was created by summer student volunteer Stephanie Gold under the direction of former HMS Librarian Jenny Miglus.  Materials are from the Hartford Medical Society Historical Library, online sources, and a generous donation of an infant blanket and cap by the NICU.
An article about this exhibit appeared on August 3, 2017 in UConn Today