Request Service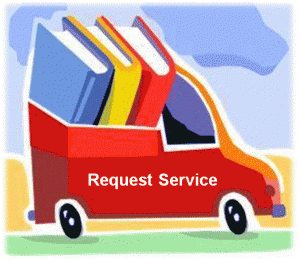 What is the Request Service?
This service allows you to request that circulating items from any UConn campus library (Storrs, Avery Point, Stamford, Torrington, Waterbury, or Greater Hartford) be pulled and held for pickup at the circulation desk of your choice.
Who can use this service?
This service is available to UConn faculty, staff, and currently enrolled students, as well as current community borrowers.
How do I make a request?
In order to place requests, we ask that you first create your ILLiad profile, if you have not already done so. This will allow us to transfer any unfilled requests (e.g. we can't find the item you want on our shelf) directly into ILLiad to be filled through Interlibrary Loan. It will also allow you to place requests, using your NetID and self-chosen password, from any UConn database or directly from ILLiad.
Locate the item you want in UConn WorldCat or HOMER, and simply click on the Request Item button.

What kinds of things can I ask for?
Most materials can be requested. Items that are not requestable include Reference, Special Collections (Dodd), Reserve, journals, and other non-circulating materials. Library gadgets (iPads, Kindles, laptops, cameras, and digital voice recorders) are also excluded from this service).
How quickly will I get my item?
Items that must be shipped from a different library will take approximately 1-3 business days. Items held at your own library will be available in 1 business day. If the item is not found on the shelf, the request will automatically be forwarded to Interlibrary Loan to be filled (exception: community borrowers are not eligible for interlibrary loan service).
How will you notify me when my item is available?
You will receive an email when your item becomes available.
How long will you hold the item for me?
Your item will remain on hold for one week.
Can I request a renewal of a UConn item?
Yes, simply go to HOMER and click on:

Note: Leisure Reading books are not renewable.
What if the item I want is checked out?
If the item you want is checked out, you can request the item via Interlibrary Loan or recall the item. (Exception: community borrowers are not eligible for interlibrary loan service.).
What if I want an article or chapter of a book?
Please refer to DD-ILL's FAQ section "How do I get an article or chapter?"
What if I want to request something not owned by UConn?
Please refer to DD-ILL's FAQ section "How can I borrow a book, DVD, VHS, CD, music score, or other material not owned by UCONN?"
Why don't I receive an availability notice when my item is ready?
We regret that if your name has an apostrophe in it, the system is unable to send you a notice when your item is ready. You can contact the Library's Information Desk to see if your item is ready, at 860.486.2518, or at the regional campus numbers below.
Questions? Please contact us at:
Storrs Babbidge Library: 860.486.2518
Avery Point: 860.405.9146
Greater Hartford: 860.570.9024
Stamford: 203.251.8500
Torrington: 860.626.6820
Waterbury: 203.236.9900