Document Delivery & Interlibrary Loan
DD-ILL FAQ

Our membership in a variety of consortia supports our mission. These consortia include, but are not limited to, the Boston Library Consortium, the Connecticut Library Consortium, the Center for Research Libraries, the Global Sharing Program, the Latin American Research Resources Project, Northeast Group Access, and RapidILL.
---
Can UConn Health Center and UConn Law affiliates use this service?
Affiliates at the UConn Law School or the UConn Health Center are directed to use Interlibrary Loan services at those institutions:
Can I order materials for my course reserve through this service?
These materials are for your personal use only; they are not transferable and may not be used for course reserve or course distribution. Please follow the instructions for ordering reserve materials on the Course Reserve page.
What do I need to use your service?
To utilize DD-ILL services, you are required to have a valid UConn NetID, a valid UConn email address, and an active, unblocked record in our local circulation system. To determine whether you have an active, unblocked, library record, you may contact the Babbidge Library iDesk at 860.486.2518.
What should I do first?
Before you place any requests, complete your profile in ILLiad.
How do I get an article or chapter?
You can request these in two ways: directly from a UConn database or from within ILLiad.
From any UConn database or from UConn WorldCat:

If the link takes you to the DD-ILL homepage, see #2 below.
2. From ILLiad:
Log in and choose the request form you need from the menu (Article or Book Chapter):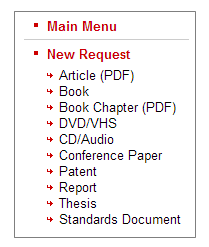 Please provide complete citation information. When your article becomes available, you will receive an email notification. Log into ILLiad to retrieve your article (PDF). Your article will remain accessible for 30 days.  Please note that incomplete citations will cause a delay in the processing of your request.
How can I borrow a book, DVD, VHS, CD, music score, or other material not owned by UConn?
Search for and request your item in UConn WorldCat.  WorldCat is a catalog of 1.5 billion items held at more than 10,000 libraries. Use WorldCat for items held at other institutions worldwide.
Search for items in UConn WorldCat.
Find the item you want and choose Request from ILL:


  TIP: Choosing "Yes" in the ILLiad Loan Request form for the question "Will you accept an alternate edition of this item?" will allow us to pursue other editions which might be more widely available.
This service:
Has loan periods that are set by the lending institution; loan periods vary, but are usually 28 days
Generally obtains materials in 5-14 business days
May or may not allow for renewals
To track these items or set up an account, use My ILLiad.
How do I use Scan on Demand?
This service is available to UConn faculty, staff, and currently enrolled students, and provides for the in-house scanning of journals and book chapters held in the UConn Libraries. More information can be found on the Scan on Demand Page.
Request Service: Requesting items from UCONN
This service allows UConn faculty, staff, and currently enrolled students, as well as current community borrowers to request that circulating items from any UConn campus library (Storrs, Music & Dramatic Arts, the Pharmacy Library, Avery Point, Stamford, Torrington, Waterbury, or Greater Hartford) be pulled and held for pickup at the circulation desk of your choice. More information can be found on the Request Service page.
Can visiting scholars use DD-ILL services?
Visiting scholars may use DD-ILL services if they have:
A current patron record in our local circulation system
A current UConn NetID
A valid UConn email address
To determine your eligibility, please visit the iDesk on the Plaza Level of the Babbidge Library or contact them at 860.486.2518. If you do not have a current UConn NetID and UConn email address, please refer to your sponsoring department for assistance.
Can someone else check out my materials for me?
Faculty and staff may allow their students to check out ILL materials on their behalf. These students are registered as Proxy Patrons at the Library's iDesk. More information can be found on the Proxy Patron Program page.
Do you have a confidentiality policy?
Yes, the Libraries' confidentiality policy can be found here.
Where can I return my materials?
On the main campus you may return your materials to the Babbidge Library, the Music & Dramatic Arts Library, or the Pharmacy Library. Materials may also be returned to any of the five regional campus libraries: Avery Point, Greater Hartford, Stamford, Torrington, or Waterbury. Materials cannot be returned to the UConn Health Center Library or Law Library at this time.
Can I put a note to myself in the request when I place it?
You can place personal notes to yourself in your ILLiad requests. These could include notes regarding references or citations. Staff processing notes also appear here, but you may disregard these.
To place a note:
Request your item in UConn WorldCat
Record your note in the Notes field:
To retrieve a note:
Login to your My ILLiad account
Click on "Checked Out Items"
Select the transaction number of the one you want to view
Your note will appear in the Notes field at the bottom
If you have returned the item, or if it has not yet arrived, you can still view the note, just select "All Requests" rather than "Checked Out Items" to locate the request you wish to view.
How long does it take to get something?
It can take anywhere from 2-14 business days to obtain an item from interlibrary loan. Most items come between 1-4 business days.  Items that are difficult to obtain can take up to three weeks or longer to arrive. To help avoid disappointment, be sure to submit requests promptly and make sure your citations are complete and accurate. Please contact us (860.486.4959) if you have any questions about the status of your request. You will be notified by email when your item is available and ready to be picked up.
Are there limits to how many things I can request?
There are no limits to requests; however, DD-ILL staff reserve the right to limit how many requests are processed per day per user during busy periods. When the number of requests from a single person might adversely affect the service to others, staff reserves the right to establish priorities of service. Large numbers of requests may be processed over several days. We ask that you be mindful about placing requests; every request you make comes at a cost to the University.
How long can I keep my borrowed material?
Due dates are set by the library that lends us your item; that date is indicated on the band or bookmark. Alternatively, you can review your due dates by viewing your checked out items. Due dates for items borrowed from UConn can be viewed by logging into your UConn Libraries account (you must sign in to see your account):

Due dates for items borrowed through ILLiad can be viewed by logging into your My ILLiad account and viewing your checked out items (see next question). To help us maintain positive relationships with lending libraries, it is your obligation to honor that due date.
How do I renew my materials?
You can request renewals for your ILLiad materials through ILLiad. Please note that when requesting a renewal, it is a request that can be accepted or denied by the lending library. A new due date, if granted, is determined by the lending library.
Login to ILLiad
Click on "Checked Out Items", under "View and Renew"
Select the transaction number of the one you want to renew
Click on "Renew Request" at the top
Note: If the institution does not allow for a renewal or if you have already requested a renewal, you will not be given the option to renew.
Note: If an item you have checked out is not on the list, it may be a UConn-owned item. Login to your UConn Libraries account to renew your UConn materials.
You will be sent an email confirming whether the item was renewed along with the new due date. If your renewal is not granted, you will also be notified.
Are there Fines and Fees?
Document Delivery and Interlibrary Loan services are offered to UConn faculty, staff, and currently enrolled students to support academic research, learning, and professional growth. You are responsible for your own materials and for managing your own account. If items are lost or damaged while in your possession, you will be billed through the Bursar's Office for repair, replacement, or processing fees assessed by the lending library.
You will be sent a courtesy reminder before the item is due. If you do not return or renew your item before the due date you will receive an overdue notice. If you do not return your overdue item, you will receive a Notice of Fines and Fees. You will be charged for replacement (minimum of $95) as well as a nonrefundable $15.00 lost item processing fee. The replacement cost may be waived upon your returning the item; however, once an invoice has been paid to a lending institution, the replacement cost cannot be waived.
Payment for these fees is made through the Bursar's Office.
Once an invoice has been paid to the lending library, your fines cannot be waived.
The Libraries respect each user's right to privacy and confidentiality. Information about an individual's library record is available only to that individual and to appropriate Library staff.
Are there materials that aren't available through ILL?
Materials that are generally not available through this service include:
Reference materials
Unpublished manuscripts
Rare, older, or fragile materials
Entire issues or volumes of journals
Educational kits
Psychological tests
Genealogical materials
Please request your leisure materials (such as CDs, DVDs, VHS, popular bestsellers) from your local public library or a commercial service.
Some materials are difficult to obtain; obtaining something once does not necessarily mean that you will be able to obtain it again. This includes:
Recently published or produced materials
Media, such as CDs, DVDs, and VHS
Maps
International dissertations and publications
Technical standards and specifications
What about workbooks, standardized tests, and materials required for current UConn courses (including textbooks)?
Library policy restricts both undergraduate and graduate students from borrowing workbooks, standardized tests, and course-adopted texts (for example, textbooks that are currently required in UConn courses). Faculty and staff are permitted to borrow materials required for UConn courses (including textbooks), but only in support of research and scholarly purposes and not for classroom use.
What does it mean to "clone" my request?
To clone a request means to duplicate it, to request the same item again. You may choose this if you are not able to renew an item and wish to request it again. Follow the same process as renewing your items; if you see "clone request" it means you are not able to renew, but you may request again. When you click on "clone request" it will bring up the request form and allow you to edit the request if needed. Then, click "Submit Request."
How do I change my pickup location?
To change your pickup location for ILLiad materials, log into your ILLiad account, and click on "Change User Information" under the "Tools" section of the left-hand menu.  Select your pickup location from the drop down box under "Campus Pickup Location," then click the "Submit Information" button.
What about items on reserve?
Items on reserve at your UConn home library may not be requested via ILLiad.  You can visit the reserve desk to check this item out.
How do I cancel a request?
To cancel a request in ILLiad, please contact us with the item information.
To cancel a request for a UConn book, sign into your UConn Libraries account, click on "Requests" in the left menu, and choose "cancel" under "Actions."